Professional MMA Training Training Near Houston TX
Get in shape and stay motivated with McCall Mixed Martial Arts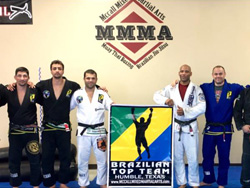 McCall Mixed Martial Arts has a mission - to foster a love for MMA in every single student. We offer Brazilian Jiu-Jitsu and Muay Thai Kickboxing to the greater Houston areas. We strive to provide our students with a safe, clean, positive and professional environment where they can feel comfortable while gaining expert instruction - all while they develop their techniques and skills that will affect them for the rest of their lives. We hope to have you discover a lifelong love for the sport of MMA! We also strive and aim to teach techniques that will help our students excel in self-defense and Martial Arts competitions.
We have qualified instructors (5 years and more training experience) teaching all of our classes - and most classes are taught by a Black Belt!
---
Our training is designed to benefit the mind, body, and soul:
Mental Strength: We will help you to have a more positive, motivating and inspirational attitude and outlook on life. We will help you push beyond your limits with the help of your training partners and the atmosphere McCall MMA provides.
Strengthen Your Body: Each day that you train, your body will become more physically conditioned, more flexible, and physically stronger. You will notice that those pants fit looser, your skin has tightened, and you will hear those compliments of how good you look! We will teach you better eating habits that will help your body shed that unwanted fat and extra pounds!
Inner Soul: We will help you will learn how to be fierce, and yet merciful. We will help you believe that no mountain is too high to climb, and that no matter what rough spots come your way, you will fight through them and not quit until you the job is accomplished!
---
Mixed Martial Arts Training in Houston
What is Mixed Martial Arts? As the name itself implies, Mixed Martial Arts (MMA) is a variety of different martial arts styles; it's a blend of martial arts, grappling styles, boxing, and wrestling. While the name "MMA" might make one think it's a new sport, there's evidence that a version of it was practiced amongst the ancient Greeks thousands of years ago.
MMA differs from the traditional martial arts in the fact that it has a focus on both offense and defense. These forms blend different schools and martial arts style into one new different style. If you've ever watched competitive MMA matches, like UFC or something else, you know those fighters don't just focus on one style only. They strike, kick, grapple, wrestle, utilize punches and jabs, and standard holds.
---
McCall Martial Arts can Help
If you live in Houston, Humble, Kingwood, Channelview, Atascocita or the surrounding area and are looking for martial arts classes to join, consider McCall Mixed Martial Arts! McCall Mixed Martial Arts is a family owned and operated studio run by a husband and wife who are both experienced MMA practitioners themselves. The studio offers an air-conditioned waiting area, 1900 square foot training area with mats, workout equipment, and lockers. Anyone of any experience level is welcome to join; classes are available for kids, teens, and adults, from beginners up to advanced trainees, just give us a call and you can start as early as today!
---
Meet Our Instructors
Professor Darren McCall - Head Instructor
Brazilian Jiu-Jitsu 2nd Degree Black Belt & 1st Degree Judo Black Belt
"I am married and we are the proud parents of five boys and one girl (including twins!). With eight members in our family, we know how valuable every dollar is, and we strive to make our programs very affordable. I began my grappling training in 1994 with Judo and I received my black belt in 1999. In 2000, I started training BJJ and received my black belt in 2007. Now, I'm a 2nd degree black belt in BJJ under 6th degree black belt Murilo Bustamante. I enjoy sharing my knowledge, enjoy watching others learn, and achieve their goals and dreams!"
---
Don Mouser
Assistant Brazilian Jiu-Jitsu Instructor (1st Degree Black Belt)
Don Mouser has been training in Brazilian Jiu-Jitsu since 1998. He is a technical practitioner that is over 225 lbs., but he moves like he is a middleweight. His knowledge of the game and flowing style has rubbed off on many students.
---
Misael Miranda
Assistant BJJ Instructor (Black Belt)
"I started in MMA when a friend invited me to train Jiu-Jitsu. I was 16 years old and didn't even know what Jiu-Jitsu was at the time. I started training as a hobby, and later, after working on it as my hobby, it became my addiction and lifestyle! Now I would not know what to do if I couldn't teach and train the art that I love so much. It has become my life."
---
Liz McCall
Kids Instructor and Assistant BJJ Instructor ( 2 stripe Purple Belt)
Liz is married to Darren McCall. She trains, teaches, and juggles the duties of being a wife and mother! She has been training since September 2010 and has won and placed at many local tournaments, NAGA Tournaments, and IBJJF Tournaments!
---
If you're interested in strengthening your body, mind, and spirit with MMA classes taught by professional black belt instructors, contact McCall Mixed Martial Arts at (832) 375-9608. We proudly serve the greater Houston and Humble TX areas.