Aldine TX 's Leading Kickboxing Center
Kickboxing can be a benefit to anyone, no matter your age or skill set!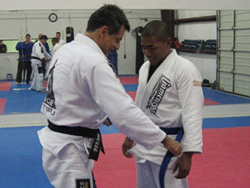 McCall Mixed Martial Arts exists to help every student discover a love for MMA and Muay Thai Kickboxing. Our qualified instructors have a passion for martial arts, and offer the greater Aldine TX area with affordable and expert classes. Our facility is safe, clean, positive, and most importantly professional. Here is where our students develop their techniques and skills that will affect them for the rest of their lives. Is it our hope that you, like we have, develop a lifelong love of the sport! The methods and techniques you learn here will be useful for both self defense and martial arts competitions.
We have qualified instructors (5 years and more training experience) teaching all of our classes - and most classes are taught by a Black Belt!
---
Why Consider Muay Thai Kickboxing for Your Child?
Like any martial art, enrolling your child in a Muay Thai kickboxing class can help them learn discipline, respect for others, and how to have fun while exercising! Due to their regimen and decorum, martial arts classes encourage students to take their studies seriously, and this focus can carry on into other aspects of their lives. In addition, Muay Thai, like other martial arts, is a great after-school activity to enroll your kids in to keep them out of trouble and allow them to make new friends.
---
? Why Choose McCall Mixed Martial Arts near Aldine TX?
Qualified instructors with 5 years and more training experience teaching all of our classes.
A comfortable waiting area in an air conditioned facility
Workout equipment and approximately 1900 sq. ft. of mat space
We have a waiting area, lockers, and we have men and women bathrooms along with showers.
Affordable, fun, and productive after school programs.
A low stress environment that puts an importance on having fun while training, yet being safe, and training hard.
---
See what our students have to say!
"I just want to say thank you for the ground techniques that I have learned. It saved my life when I had to subdue a suspect that was trying to kill me with his gun. I did not think; my body reacted and the Brazilian Jiu-Jitsu worked perfectly!"

- Chris S., Houston Police Department Officer
---
"Professor McCall is a very technical instructor, yet is able to break down technique in such a manner that a beginner will grasp the concept. Professor McCall is always willing to assist a student no matter what level and will at times roll with his students of all levels to assess their progress. A quality BJJ instructor."

- Luis
---
Whether you're interested in trying Muay Thai Kickboxing for the first time, or you're a seasoned champ, we know you'd be able to benefit from our classes! Contact McCall Mixed Martial Arts today at (823) 375-9608. If you're in the greater Aldine TX area, we'd love to see you stop by!