Superior Muay Thai Kickboxing Throughout Kingwood TX
Learn professional kickboxing skills from trained experts!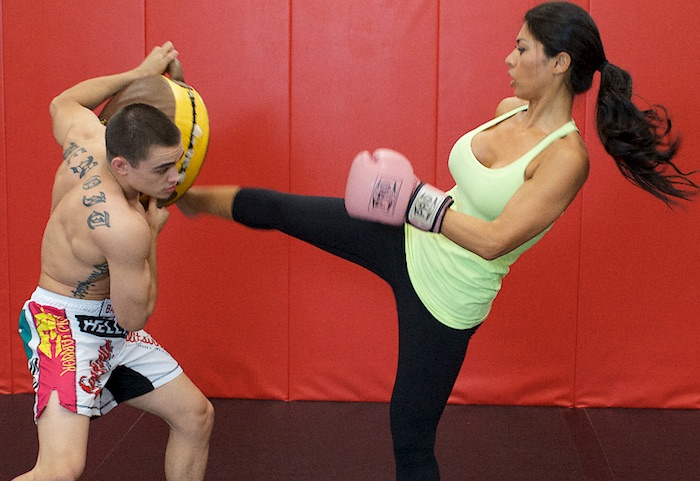 McCall Mixed Martial Arts exists to help every student discover a love for MMA and Muay Thai Kickboxing. Our qualified instructors have a passion for martial arts, and offer the greater Kingwood TX area with affordable and expert classes. Our facility is safe, clean, positive, and most importantly professional. Here is where our students develop their techniques and skills that will affect them for the rest of their lives. Is it our hope that you, like we have, develop a lifelong love of the sport! The methods and techniques you learn here will be useful for both self defense and martial arts competitions.
We have qualified instructors (5 years and more training experience) teaching all of our classes - and most classes are taught by a Black Belt!
---
Muay Thai is Also Great for Adults!
If you're an adult looking for an engaging fitness regimen, don't pass up Muay Thai kickboxing! An average class burns at least 800 calories, and can help you strengthen vital muscle groups as you learn the various strikes and grapples associated with Muay Thai. Like many cardio classes, Muay Thai kickboxing can help you lose weight, as well as with strength training and toning. Unlike some cardio classes where you don't train with partners, you're encouraged to pair off and train together when you take a Muay Thai kickboxing class. This not only makes learning the various strikes, throws, and kicks easier, it also makes it more fun!
---
Key Benefits of training in Muay Thai Kickboxing near Kingwood TX:
Get in your best shape ever!
Learn healthy habits that will last a lifetime.
Learn self discipline and self-defense.
Lose weight (by training in Muay Thai, the average adult loses 10-15 lbs. in 4-5 weeks!)
Affordable and very reasonable pricing and great multiple member rates!
Relieve stress and manage anger issues
Become part of our family and make new friends
---
See what our students have to say!
"I love this gym! My daughter, age 12, and son, age 10, both take classes here. They both take kickboxing and they really enjoy it. It is family owned, and the owners are so nice. The class schedule is great and the monthly fees are very reasonable. I recommend this gym highly!"

- Liz H., Humble, TX
---
"I've been with the Mccalls MMA family for Over 6 years. They have the best BJJ & Muay Thai program and have superb coaches- Coach Darren, Coach Jim, Coach Mike & Coach Liz! Everyone there is friendly, professional and makes you feel welcome! They are equipped with showers, tons of thai bags and even a cage! Very clean and spacious gym!"

- Eli H., Houston, TX
---
Whether you're interested in trying Muay Thai Kickboxing for the first time, or you're a seasoned champ, we know you'd be able to benefit from our classes! Contact McCall Mixed Martial Arts today at (823) 375-9608. If you're in the greater Kingwood TX area, we'd love to see you stop by!