Superior Muay Thai Kickboxing Near Channelview TX
Learn professional kickboxing skills from trained experts!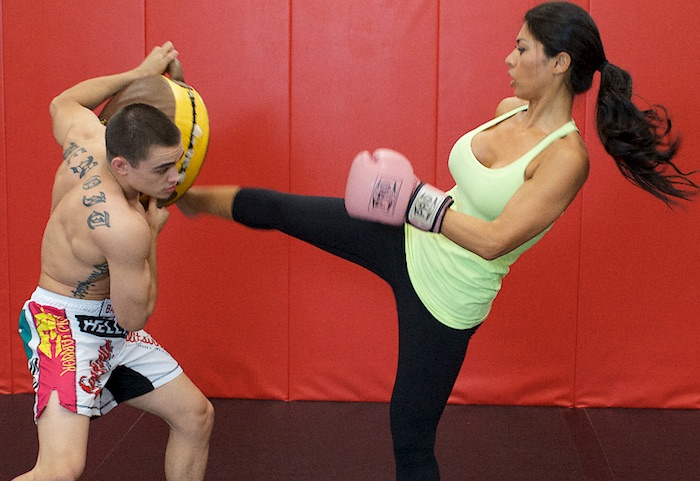 McCall Mixed Martial Arts exists to help every student discover a love for MMA and Muay Thai Kickboxing. Our qualified instructors have a passion for martial arts, and offer the greater Channelview area with affordable and expert classes. Our facility is safe, clean, positive, and most importantly professional. Here is where our students develop their techniques and skills that will affect them for the rest of their lives. Is it our hope that you, like we have, develop a lifelong love of the sport! The methods and techniques you learn here will be useful for both self defense and martial arts competitions.
We have qualified instructors (5 years and more training experience) teaching all of our classes - and most classes are taught by a Black Belt!
---
Why Consider Muay Thai Kickboxing for Your Child?
Like any martial art, enrolling your child in a Muay Thai kickboxing class can help them learn discipline, respect for others, and how to have fun while exercising! Due to their regimen and decorum, martial arts classes encourage students to take their studies seriously, and this focus can carry on into other aspects of their lives. In addition, Muay Thai, like other martial arts, is a great after-school activity to enroll your kids in to keep them out of trouble and allow them to make new friends.
---
Key Benefits of training in Muay Thai Kickboxing near Channelview:
Get in your best shape ever!
Learn healthy habits that will last a lifetime.
Learn self discipline and self-defense.
Lose weight (by training in Muay Thai, the average adult loses 10-15 lbs. in 4-5 weeks!)
Affordable and very reasonable pricing and great multiple member rates!
Relieve stress and manage anger issues
Become part of our family and make new friends
---
See what our students have to say!
"I was looking for a reasonably priced place to learn martial arts and get in shape. I found McCall MMA online and decided to give it a try. They teach muay thai and Brazilian jiu jitsu, have adult and kids classes. I ended up signing up for jiu jitsu and its been 4 years of training at McCall now. The coach and his wife are amazing people. Many nights I have seen the Coach, Darren, just working with students after most everyone has left going over and over technique with someone till all their questions are answered. Your teammates here are like a second family. There's a good mix of males and females. Everyone is welcome here and egos are checked at the door. So not only are you able to get good training and practice in, this gym is a place you look forward to getting beat up in!"

- Amy R., Humble, TX
---
Whether you're interested in trying Muay Thai Kickboxing for the first time, or you're a seasoned champ, we know you'd be able to benefit from our classes! Contact McCall Mixed Martial Arts today at (823) 375-9608. If you're in the greater Channelview area, we'd love to see you stop by!