Huffman TX's Best Mixed Martial Arts Classes
Gain experience, strength, and willpower with McCall Mixed Martial Arts!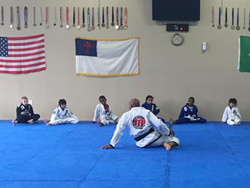 McCall Mixed Martial Arts has a mission - to foster a love for MMA in every single student. We offer Brazilian Jiu-Jitsu and Muay Thai Kickboxing to the greater Huffman areas. We strive to provide our students with a safe, clean, positive and professional environment where they can feel comfortable while gaining expert instruction - all while they develop their techniques and skills that will affect them for the rest of their lives. We hope to have you discover a lifelong love for the sport of MMA! We also strive and aim to teach techniques that will help our students excel in self-defense and Martial Arts competitions.
We have qualified instructors (5 years and more training experience) teaching all of our classes - and most classes are taught by a Black Belt!
---
Our training is designed to benefit the mind, body, and soul:
Mental Strength: We will help you to have a more positive, motivating and inspirational attitude and outlook on life. We will help you push beyond your limits with the help of your training partners and the atmosphere McCall MMA provides.
Strengthen Your Body: Each day that you train, your body will become more physically conditioned, more flexible, and physically stronger. You will notice that those pants fit looser, your skin has tightened, and you will hear those compliments of how good you look! We will teach you better eating habits that will help your body shed that unwanted fat and extra pounds!
Inner Soul: We will help you will learn how to be fierce, and yet merciful. We will help you believe that no mountain is too high to climb, and that no matter what rough spots come your way, you will fight through them and not quit until you the job is accomplished!
---
Mixed Martial Arts Training in Huffman
What is Mixed Martial Arts? As the name itself implies, Mixed Martial Arts (MMA) is a variety of different martial arts styles; it's a blend of martial arts, grappling styles, boxing, and wrestling. While the name "MMA" might make one think it's a new sport, there's evidence that a version of it was practiced amongst the ancient Greeks thousands of years ago.
MMA differs from the traditional martial arts in the fact that it has a focus on both offense and defense. These forms blend different schools and martial arts style into one new different style. If you've ever watched competitive MMA matches, like UFC or something else, you know those fighters don't just focus on one style only. They strike, kick, grapple, wrestle, utilize punches and jabs, and standard holds.
---
McCall Martial Arts can Help
If you live in Houston, Humble, Kingwood, Channelview, Atascocita or the surrounding area and are looking for martial arts classes to join, consider McCall Mixed Martial Arts! McCall Mixed Martial Arts is a family owned and operated studio run by a husband and wife who are both experienced MMA practitioners themselves. The studio offers an air-conditioned waiting area, 1900 square foot training area with mats, workout equipment, and lockers. Anyone of any experience level is welcome to join; classes are available for kids, teens, and adults, from beginners up to advanced trainees, just give us a call and you can start as early as today!
---
See what our students have to say!
"I just want to say thank you for the ground techniques that I have learned. It saved my life when I had to subdue a suspect that was trying to kill me with his gun. I did not think; my body reacted and the Brazilian Jiu-Jitsu worked perfectly!"

- Chris S., Houston Police Department Officer
---
"Professor McCall is a very technical instructor, yet is able to break down technique in such a manner that a beginner will grasp the concept. Professor McCall is always willing to assist a student no matter what level and will at times roll with his students of all levels to assess their progress. A quality BJJ instructor."

- Luis
---
If you're interested in strengthening your body, mind, and spirit with MMA classes taught by professional black belt instructors, contact McCall Mixed Martial Arts at (832) 375-9608. We proudly serve the greater Huffman and Humble TX areas.