Professional MMA Dojo Near Channelview TX
Gain experience, strength, and willpower with McCall Mixed Martial Arts!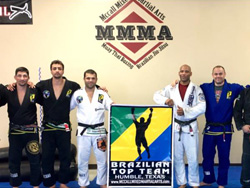 McCall Mixed Martial Arts has a mission - to foster a love for MMA in every single student. We offer Brazilian Jiu-Jitsu and Muay Thai Kickboxing to the greater Channelview areas. We strive to provide our students with a safe, clean, positive and professional environment where they can feel comfortable while gaining expert instruction - all while they develop their techniques and skills that will affect them for the rest of their lives. We hope to have you discover a lifelong love for the sport of MMA! We also strive and aim to teach techniques that will help our students excel in self-defense and Martial Arts competitions.
We have qualified instructors (5 years and more training experience) teaching all of our classes - and most classes are taught by a Black Belt!
---
? Why Choose McCall Mixed Martial Arts?
Qualified instructors with 5 years and more training experience teaching all of our classes.
A comfortable waiting area in an air conditioned facility
Workout equipment and approximately 1900 sq. ft. of mat space
We have a waiting area, lockers, and we have men and women bathrooms along with showers.
Affordable, fun, and productive after school programs.
A low stress environment that puts an importance on having fun while training, yet being safe, and training hard.
---
Mixed Martial Arts Training in Channelview
What is Mixed Martial Arts? As the name itself implies, Mixed Martial Arts (MMA) is a variety of different martial arts styles; it's a blend of martial arts, grappling styles, boxing, and wrestling. While the name "MMA" might make one think it's a new sport, there's evidence that a version of it was practiced amongst the ancient Greeks thousands of years ago.
MMA differs from the traditional martial arts in the fact that it has a focus on both offense and defense. These forms blend different schools and martial arts style into one new different style. If you've ever watched competitive MMA matches, like UFC or something else, you know those fighters don't just focus on one style only. They strike, kick, grapple, wrestle, utilize punches and jabs, and standard holds.
---
Mixed Martial Arts can be Beneficial for Young Adults, Too!
Whether you're heading off to college, moving to your own apartment, or starting your first grown-up job, when you're a young adult striking out on your own for the first time, it's understandable to feel a bit overwhelmed and intimidated by what you're getting yourself into. By learning MMA or other martial arts, you can channel those negative feelings into something positive, learning discipline and focus at the same time. It also allows you to gain valuable self-defense skills, which you can use to protect yourself if the need ever arises.
---
See what our students have to say!
"First, I want to thank my trainers, Darren (Brazilian Jiu-Jitsu) and Jim (Muay Thai Kickboxing). Without them pushing and motivating me while giving me advice, I would not be where I am today. Training at McCall Mixed Martial Arts has improved my way of working out. I already did the whole working out at a fitness gym for 4 hours a day without getting the results I have gotten by working out at MMMA for 2.5 hours a day. I get a workout ten times better than lifting weights and running on a treadmill.
Training in Muay Thai with coach Jim is a cardio rush like no other from punching and kicking to using your knees. The non-stop workout will push you to the next level. Training BJJ with Coach Darren is where I get my inner core strength plus its a lot more fun than any old gym workout. I have been training at MMMA for 7 months and I have lost 76lbs. My body has had a major change with me losing inches and toning my arms and legs. Both of my trainers give me nutritional advice and I also want to thank the other students in the gym because we all push each other to meet our goals and surpass those goals. We are like a big family with arms wide open for anybody else to join our family."

- Tony G.
---
If you're interested in strengthening your body, mind, and spirit with MMA classes taught by professional black belt instructors, contact McCall Mixed Martial Arts at (832) 375-9608. We proudly serve the greater Channelview and Humble TX areas.