The Woodlands TX 's Premier Kickboxing Classes Facility
Kickboxing can be a benefit to anyone, no matter your age or skill set!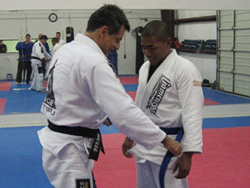 McCall Mixed Martial Arts exists to help every student discover a love for MMA and Muay Thai Kickboxing. Our qualified instructors have a passion for martial arts, and offer the greater The Woodlands TX area with affordable and expert classes. Our facility is safe, clean, positive, and most importantly professional. Here is where our students develop their techniques and skills that will affect them for the rest of their lives. Is it our hope that you, like we have, develop a lifelong love of the sport! The methods and techniques you learn here will be useful for both self defense and martial arts competitions.
We have qualified instructors (5 years and more training experience) teaching all of our classes - and most classes are taught by a Black Belt!
---
The History of Muay Thai Kickboxing
Muay Thai is the martial arts that originated from Thailand; it's also known as 'The Art of Eight Limbs', and can be traced all the way back to the middle of the 16th century. It was then that the famous fighter Nai Khanomtom was captured by the Burmese during the battles between Siam and Burma. His captors, knowing his expertise in close quarters and hand-to-hand combat, gave him the opportunity to fight for his freedom. Having won the match and his freedom, he was permitted to return home, and his fighting style was recognized as Muay Thai.
The nickname 'The Art of Eight Limbs' comes from the eight points of contact used to mimic weapons of war. The hands mimic swords and daggers, the shins and forearms mimic armor, the elbow was to act like a mace, and the legs and knees became axes and staves. As the knees and elbows seek out weaknesses and openings, the entire body works as a single unit to bring down an opponent. Unlike most other martial arts, most of the focus on Muay Thai is on grappling and strikes, utilizing the eight points as opposed to two (normal boxing) or four (other fighting forms).
---
? Why Choose McCall Mixed Martial Arts near The Woodlands TX?
Qualified instructors with 5 years and more training experience teaching all of our classes.
A comfortable waiting area in an air conditioned facility
Workout equipment and approximately 1900 sq. ft. of mat space
We have a waiting area, lockers, and we have men and women bathrooms along with showers.
Affordable, fun, and productive after school programs.
A low stress environment that puts an importance on having fun while training, yet being safe, and training hard.
---
See what our students have to say!
"I was looking for a reasonably priced place to learn martial arts and get in shape. I found McCall MMA online and decided to give it a try. They teach muay thai and Brazilian jiu jitsu, have adult and kids classes. I ended up signing up for jiu jitsu and its been 4 years of training at McCall now. The coach and his wife are amazing people. Many nights I have seen the Coach, Darren, just working with students after most everyone has left going over and over technique with someone till all their questions are answered. Your teammates here are like a second family. There's a good mix of males and females. Everyone is welcome here and egos are checked at the door. So not only are you able to get good training and practice in, this gym is a place you look forward to getting beat up in!"

- Amy R., Humble, TX
---
Whether you're interested in trying Muay Thai Kickboxing for the first time, or you're a seasoned champ, we know you'd be able to benefit from our classes! Contact McCall Mixed Martial Arts today at (823) 375-9608. If you're in the greater The Woodlands TX area, we'd love to see you stop by!