Huffman TX's Superior Kickboxing Classes Dojo
Kickboxing can be a benefit to anyone, no matter your age or skill set!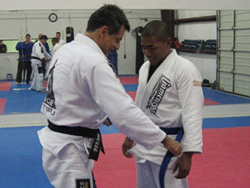 McCall Mixed Martial Arts exists to help every student discover a love for MMA and Muay Thai Kickboxing. Our qualified instructors have a passion for martial arts, and offer the greater Huffman area with affordable and expert classes. Our facility is safe, clean, positive, and most importantly professional. Here is where our students develop their techniques and skills that will affect them for the rest of their lives. Is it our hope that you, like we have, develop a lifelong love of the sport! The methods and techniques you learn here will be useful for both self defense and martial arts competitions.
We have qualified instructors (5 years and more training experience) teaching all of our classes - and most classes are taught by a Black Belt!
---
Why Consider Muay Thai Kickboxing for Your Child?
Like any martial art, enrolling your child in a Muay Thai kickboxing class can help them learn discipline, respect for others, and how to have fun while exercising! Due to their regimen and decorum, martial arts classes encourage students to take their studies seriously, and this focus can carry on into other aspects of their lives. In addition, Muay Thai, like other martial arts, is a great after-school activity to enroll your kids in to keep them out of trouble and allow them to make new friends.
---
? Why Choose McCall Mixed Martial Arts near Huffman?
Qualified instructors with 5 years and more training experience teaching all of our classes.
A comfortable waiting area in an air conditioned facility
Workout equipment and approximately 1900 sq. ft. of mat space
We have a waiting area, lockers, and we have men and women bathrooms along with showers.
Affordable, fun, and productive after school programs.
A low stress environment that puts an importance on having fun while training, yet being safe, and training hard.
---
See what our students have to say!
"First, I want to thank my trainers, Darren (Brazilian Jiu-Jitsu) and Jim (Muay Thai Kickboxing). Without them pushing and motivating me while giving me advice, I would not be where I am today. Training at McCall Mixed Martial Arts has improved my way of working out. I already did the whole working out at a fitness gym for 4 hours a day without getting the results I have gotten by working out at MMMA for 2.5 hours a day. I get a workout ten times better than lifting weights and running on a treadmill.
Training in Muay Thai with coach Jim is a cardio rush like no other from punching and kicking to using your knees. The non-stop workout will push you to the next level. Training BJJ with Coach Darren is where I get my inner core strength plus its a lot more fun than any old gym workout. I have been training at MMMA for 7 months and I have lost 76lbs. My body has had a major change with me losing inches and toning my arms and legs. Both of my trainers give me nutritional advice and I also want to thank the other students in the gym because we all push each other to meet our goals and surpass those goals. We are like a big family with arms wide open for anybody else to join our family."

- Tony G.
---
Whether you're interested in trying Muay Thai Kickboxing for the first time, or you're a seasoned champ, we know you'd be able to benefit from our classes! Contact McCall Mixed Martial Arts today at (823) 375-9608. If you're in the greater Huffman area, we'd love to see you stop by!