Atascocita TX 's Superior Kickboxing Classes Dojo
Learn professional kickboxing skills from trained experts!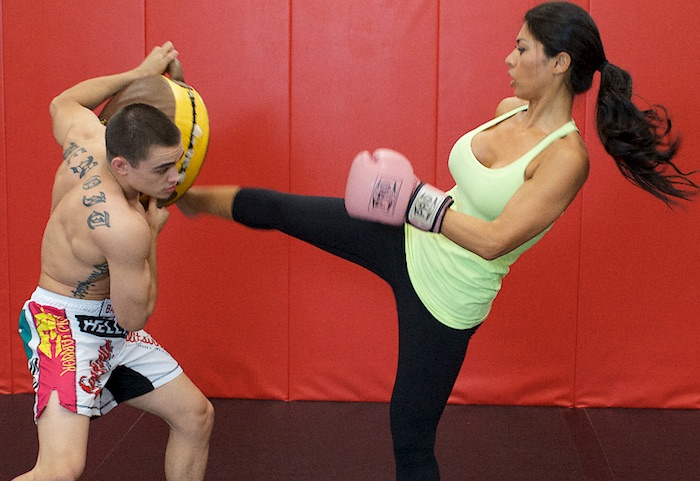 McCall Mixed Martial Arts exists to help every student discover a love for MMA and Muay Thai Kickboxing. Our qualified instructors have a passion for martial arts, and offer the greater Atascocita TX area with affordable and expert classes. Our facility is safe, clean, positive, and most importantly professional. Here is where our students develop their techniques and skills that will affect them for the rest of their lives. Is it our hope that you, like we have, develop a lifelong love of the sport! The methods and techniques you learn here will be useful for both self defense and martial arts competitions.
We have qualified instructors (5 years and more training experience) teaching all of our classes - and most classes are taught by a Black Belt!
---
Muay Thai is Also Great for Adults!
If you're an adult looking for an engaging fitness regimen, don't pass up Muay Thai kickboxing! An average class burns at least 800 calories, and can help you strengthen vital muscle groups as you learn the various strikes and grapples associated with Muay Thai. Like many cardio classes, Muay Thai kickboxing can help you lose weight, as well as with strength training and toning. Unlike some cardio classes where you don't train with partners, you're encouraged to pair off and train together when you take a Muay Thai kickboxing class. This not only makes learning the various strikes, throws, and kicks easier, it also makes it more fun!
---
Key Benefits of training in Muay Thai Kickboxing near Atascocita TX:
Get in your best shape ever!
Learn healthy habits that will last a lifetime.
Learn self discipline and self-defense.
Lose weight (by training in Muay Thai, the average adult loses 10-15 lbs. in 4-5 weeks!)
Affordable and very reasonable pricing and great multiple member rates!
Relieve stress and manage anger issues
Become part of our family and make new friends
---
Meet Our Instructors
Professor Darren McCall - Head Instructor
Brazilian Jiu-Jitsu 2nd Degree Black Belt & 1st Degree Judo Black Belt
"I am married and we are the proud parents of five boys and one girl (including twins!). With eight members in our family, we know how valuable every dollar is, and we strive to make our programs very affordable. I began my grappling training in 1994 with Judo and I received my black belt in 1999. In 2000, I started training BJJ and received my black belt in 2007. Now, I'm a 2nd degree black belt in BJJ under 6th degree black belt Murilo Bustamante. I enjoy sharing my knowledge, enjoy watching others learn, and achieve their goals and dreams!"
---
Don Mouser
Assistant Brazilian Jiu-Jitsu Instructor (1st Degree Black Belt)
Don Mouser has been training in Brazilian Jiu-Jitsu since 1998. He is a technical practitioner that is over 225 lbs., but he moves like he is a middle weight. His knowledge of the game and flowing style has rubbed off on many students.
---
Misael Miranda
Assistant BJJ Instructor (Black Belt)
"I started in MMA when a friend invited me to train Jiu-Jitsu. I was 16 years old and didn't even know what Jiu-Jitsu was at the time. I started training as a hobby, and later, after working on it as my hobby, it became my addiction and lifestyle! Now I would not know what to do if I couldn't teach and train the art that I love so much. It has become my life."
---
Liz McCall
Kids Instructor and Assistant BJJ Instructor ( 2 stripe Purple Belt)
Liz is married to Darren McCall. She trains, teaches, and juggles the duties of being a wife and mother! She has been training since September 2010 and has won and placed at many local tournaments, NAGA Tournaments, and IBJJF Tournaments!
---
Whether you're interested in trying Muay Thai Kickboxing for the first time, or you're a seasoned champ, we know you'd be able to benefit from our classes! Contact McCall Mixed Martial Arts today at (823) 375-9608. If you're in the greater Atascocita TX area, we'd love to see you stop by!