Channelview TX's Best Brazilian Jiu Jitsu Instructors
Brazilian Jiu Jitsu can have more benefits than you know!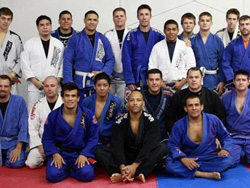 McCall Mixed Martial Arts exists to help each student learn and develop a love for MMA and Brazilian Jiu-Jitsu. We provide the Channelview area with a dojo that is positive, safe, clean, and professional. It's an area that they can come to and receive quality instruction from experts who can help them develop lifelong skills and techniques in the martial arts. Our school and instructors also aim to train and teach each student the techniques that will help them grow in their self-defense skills, or in a martial arts competition. Hopefully, you'll develop a love for the sport like we have!
Brazilian Jiu-Jitsu originated in the early 1900s in Brazil, although it was by way of Japan. In the early 1900s, Esai Maeda, a former Jujutsu champion in Japan who was now leader of a Japanese immigration convoy assigned to Brazil, befriended Gastao Gracie and taught his son Carlos. Carlos and his brothers, in turn, opened their martial arts school in 1925; his younger brother Helio adjusted the techniques to account for his smaller frame, and thus Brazilian Jiu-Jitsu was born! Helios' son eventually brought Brazilian Jiu-Jitsu (BJJ) to the United States in the 1980s, and it has been growing in popularity ever since then. Unlike other martial arts styles, BJJ teaches a smaller person ways they can defend themselves against a much larger opponent. While standing combat is also prevalent, this style is best known for its numerous chokes, holds, joint locks, and other manipulations designed to overpower an opponent.
We have qualified instructors (5 years and more training experience) teaching all of our classes - and most classes are taught by a Black Belt!
---
The Brazilian Jiu Jitsu discipline and skills are the cornerstone of the children's class because of traditional values:
Children will learn Brazilian Jiu Jitsu martial arts self defense skills in a disciplined environment.
Self defense skills are taught on their feet and on the ground.
How to handle bullies without violence is taught.
The danger of strangers are covered.
Being a Martial Artist also means being a better student. Every child learns to follow directions, pay attention in class and participate in class activities. These skills help them to become better students; therefore, better grades.
Coordination, weight loss, fitness, strength development will occur.
Confidence and self-esteem will increase and they will learn to control their anger and release it in a positive manner.
They will learn to be disciplined, to show respect, and have integrity.
Leadership skills will be taught and developed for future use. They will learn to focus and concentrate since BJJ is a thinking sport and this will help them focus in school.
---
Seriously Considering Brazilian Jiu Jitsu near Channelview? Contact Us Today!
If you live in Houston, Humble, Kingwood, Channelview, Atascocita, or the surrounding area and are looking for martial arts classes to join, look no further than McCall Mixed Martial Arts. We are a family owned and operated studio run by black belt experts. Our classes are available for all ages; kids, teens, and adults. It doesn't matter if you've had any experience, there's always somewhere to start at McCall! If you're looking for professional martial arts classes for yourself or for your child, contact us today and we'll put a plan together that will fit your needs and budget.
---
See what our students have to say!
"First, I want to thank my trainers, Darren (Brazilian Jiu-Jitsu) and Jim (Muay Thai Kickboxing). Without them pushing and motivating me while giving me advice, I would not be where I am today. Training at McCall Mixed Martial Arts has improved my way of working out. I already did the whole working out at a fitness gym for 4 hours a day without getting the results I have gotten by working out at MMMA for 2.5 hours a day. I get a workout ten times better than lifting weights and running on a treadmill.
Training in Muay Thai with coach Jim is a cardio rush like no other from punching and kicking to using your knees. The non-stop workout will push you to the next level. Training BJJ with Coach Darren is where I get my inner core strength plus its a lot more fun than any old gym workout. I have been training at MMMA for 7 months and I have lost 76lbs. My body has had a major change with me losing inches and toning my arms and legs. Both of my trainers give me nutritional advice and I also want to thank the other students in the gym because we all push each other to meet our goals and surpass those goals. We are like a big family with arms wide open for anybody else to join our family."

- Tony G.
---
If you're interested in taking your martial arts to the next step, or you'd like to see what the hype is all about - give us a call at (823) 375-9608! We know you'd be able to grow from our Brazilian Jiu-Jitsu classes. If you're in the greater Channelview area, we'd love to see you stop by!